June 25th, 2016
As many of you know, Jose Reyes was re-signed by the organization that signed him (the Mets) today. While Jose is super excited, some Mets fans have mixed emotions for obvious reasons. Growing up, I loved watching Reyes, Delgado, Beltran and Wright lead the '06 club, and I'm very happy that we are getting a player back from that era, especially with David Wright down for a considerable amount of time.

Obviously, things won't be as "funny" as they were when he was on the team before. A few players are going to have objections to what he did off the field, they are very serious, but a punishment can only be so big, and in my eyes he served that punishment, so we should be focusing on baseball right now.

Sandy Alderson, Reyes and a few more voices expressed their opinions today as a result of the news, and my good friend and fellow MLBlogger David Strobach from Bleacher Boy summed it up pretty nicely on his blog, as he explains how this is a low risk move with potentially major implications if this works out. Take a look at David's piece here:
Bleacher Boy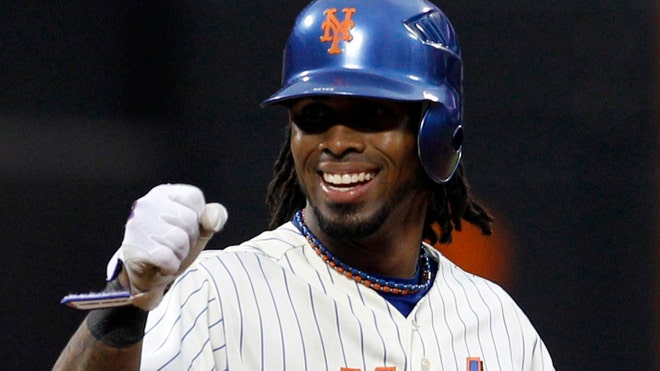 Kathy Willens/AP Photo
-David Strobach-
The New York Mets have signed free agent shortstop, Jose Reyes, to a minor league deal after clearing waivers with the Rockies to reunite the two parties.  Jose Reyes was a star for the  Mets from 2003-2011 and left for a $106 million contract spanning 6 years with the Marlins.  He was then traded to the Blue Jays, then the Rockies acquired him in the Troy Tulowitzki deal.    Reyes was suspended without pay (lost $6.25 million) through May 31 for his domestic violence incident last October where he grabbed his wife by the throat and pushed her into a glass door while in Hawaii.  He was arrested, but after his wife was uncooperative with the prosecution, the charges were later dropped.   Even though he was never formally charged, he still violated the MLB domestic abuse policy which led to his suspension. The Mets GM Sandy Alderson feels Jose has learned from his mistake, served his punishment…
View original post 761 more words
29 teams play in the United States, and one team plays in Canada. The sole, Canadian team, the Toronto Blue Jays, are two time World Series champions, and made it to the American League Championship series last year.
The Blue Jays play their home games in the Rogers Centre (formerly known as the Sky Dome), a 50,000 capacity stadium, that on Wednesday was full, as the Blue Jays hosted the Diamondbacks (and their wacky uniforms).
Upon entering, I noticed that there were a lot of young children at the game. Being that it was the first weekday day game since school ended, and that it was "Edwing" t-shirt day, it seemed like a popular giveaway. Unfortunately, like at most baseball games, most of the kids had very short attention spans, and come the third inning, they were congesting the concourses, and since there are no rope lines at the concessions at Rogers Centre, it was a little tight.
The Stadium itself was beautiful however, one of the nicest retractable roof fields I've ever been to. The only real problems I had was the functionality of my seat. There were railings on every row, eerily similar to what was present at Shea Stadium, however there were no cup holders present on these railings. Not a big deal for me, but when transversing through the already thin row (with the railing present) you had to be careful to not bump into anyones drinks.
Another major problem was that we were seated in seats directly in the sun, and everyone knows how hard that can be. Nonetheless, the Blue Jays fans were loud, even though the scoreboard generated chants were few and far between.
The Food selection at Rogers Centre looked neat, even though I didn't see any "original" options that are the equivalent of Shake Shack, Blue Smoke or PRESSED. One other interesting note was that every concession stand had a really interesting name, not "Hot Dogs and Chicken" or "Pastrami on Rye". Everything had a different name, that seemed to please the locals.
Even if you are only coming in for a few hours, catching a Blue Jays game is a must. It is conveniently located in the heart of downtown (near Union Station), and is accessible by the TTC, GO Transit, PATH and the Union Pearson Express.