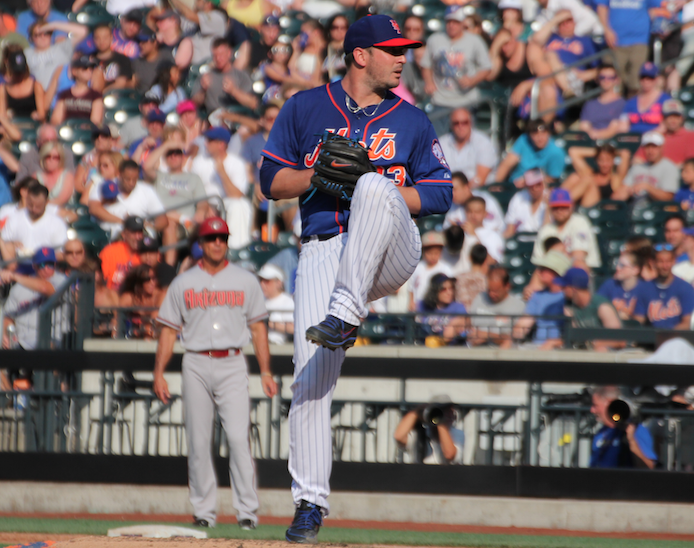 The title says it all. Point Blank.
I have to admit, I have been critical of Matt Harvey. Extremely critical, but today, sitting in section 515, I understood why Matt Harvey is the "Dark Knight". In the beginning of today's game, the crowd was a little tense. The Mets were down 2-0, and the offense couldn't hit the ball past the infield. All of this changed when Lucas Duda hit the home run in the fifth. We were back in the game, a little later, Eric Campbell draws a well earned walk. Matt Harvey steps into the plate. The first thing I say is "well, this inning isn't going anywhere…..", something most Mets fans were thinking. There was also a very small "boo" for Matt Harvey, at the time, I wasn't upset about it, especially after Matt Harvey's interventions with social media the last few days. Right before the first pitch, Mike Casiano, a long-time Mets fan who often sits near me (the guy that yells "struck! him! out!) screams something along the lines of "he's going to hit a home run!!!!!". I laughed at it, as did most of section 515, until Harvey drove one to deep left center field, the crowd all stood up at the same time, and when that ball went over the left center field fence, Citi Field shook. I've witnessed a stadium shaking twice, once in Shea and once in Camden Yards. I have been to a lot of Mets games, but I don't think I ever remember Citi shaking….
After the Mets faithful settled down (slightly), I talked to my friend who was with me about Matt Harvey. I realized then why Matt Harvey is allowed to be Matt Harvey. Why the "Dark Knight of Gotham" or whatever ridiculous name you want to call him is the "real deal". Harvey, like it or (why wouldn't you like it) is a superb star. His pitching is good, but he strives on momentum. deGrom is amazing, Matz and Synndergaard are aces in 25 out of 30 teams, and Wheeler is an amazing young arm, but Harvey is the Mets, at least right now he is. I truly believe that Harvey can and will take us to the postseason. If Harvey preforms like he did today, let him be rich and display that, let him make questionable decisions. You have to have emotion to play this game, and why Harvey's does make some bad decisions, it ultimately helps him during the game, which is all that we should care about…..