This year, the Mets introduced us to new walls, new scoreboards and new amenities. I was very anxious to see it all, as I believe a baseball game is great when a fan is provided with the most information, and have an all around good time. However, after their centerfield scoreboard that is "62% bigger" was installed, and after they added a K board, and a left field LED board, I can hereby say that the Mets scoreboard experience is abysmal. Yes, it got much worse than ever before. Why?
Here is the Mets circa 2012 right field scoreboard:
Now that is a perfect scoreboard. We see both teams lineups, all of the batters statistics that we would ever need, who is on base, player notes, scorecard notes, where he hit the ball to, and everything you would need to know about the pitcher in the bottom left. I fell in love with this perfect scoreboard, no problem whatsoever. Then, this year rolled, in, and all we get to see is what is in the bottom left hand corner. LITERALLY.
Are you kidding me? Yes, I know that the scoreboard is a tiny piece to the Citi Field experience, but dedicating a whole scoreboard to the pitchers stats and the opposing lineup is not a good idea! There are a lot of seats in the stadium that cannot see the Center Field scoreboard, making you reside to this waste board!
The other issue I have is the Mets taking away spaces that were previously dedicated to players stats & info , and turning them into ad locations! I know you need to make money, but sheesh, this is ridiculous!
Take a look at the old line board just under the promenade outfield sections.
Nothing to cheer home about, but batting statistics, an advertisement, and pitcher stats. OK. Well, the Mets added a whole extra line board below that, so we can only see improvements, right? Nope. Not even close.
Both boards swallowed up by ads. Which brings me to another point… I was at Saturday's game when a dad behind me asked his young son what color the Citi Field wall was, I was ready for him to say Blue, but instead, he said "all sorts of colors." And, sadly that is completely true.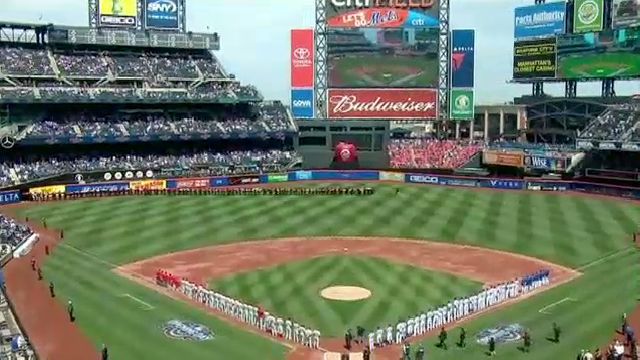 I have no problem with stadiums advertising on walls, they simply have to do it, it makes a lot of money for them, but with the eight foot walls all around, and with three new advertising locations that were not present previously in Citi Field (VYSK, Konica Minolta, Altec and National Car Rental are all new on the Citi Field wall, before them were a blue fence, with the exception of the VYSK space, as that is where Xerox was.) Here is a small solution, how about make all advertisements blue? While I do believe that the kids "multi-color" response was a bit far-fetched, it certainly wasn't an incorrect answer. Of course, advertisers like Budweiser and Verizon would probably not blend in well, there is no reason why some of the other advertisers like Citi or Altec can't sport the royal blue.
Oh and one last thing. There is no where in Citi Field to see the TIME from Section 514, or anywhere from the upper promenade. Of course, my phone is a simple replacement, but it would be nice to have the clock back!